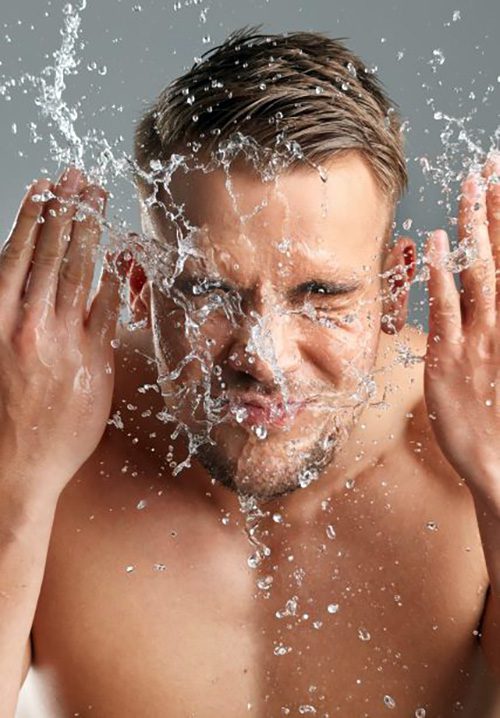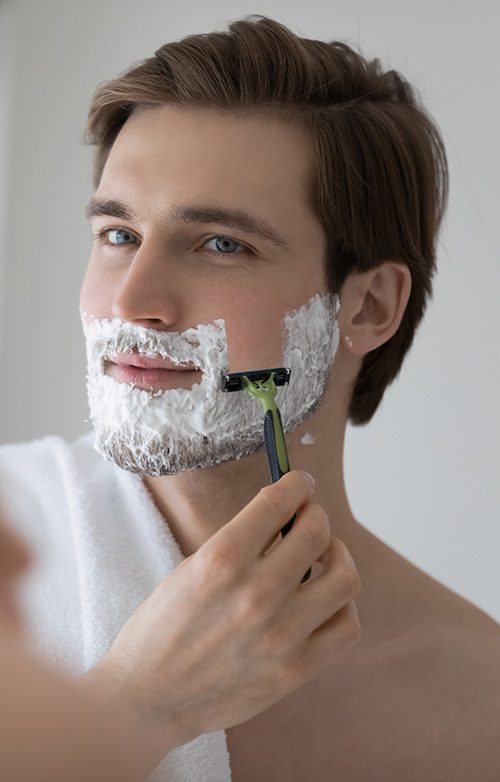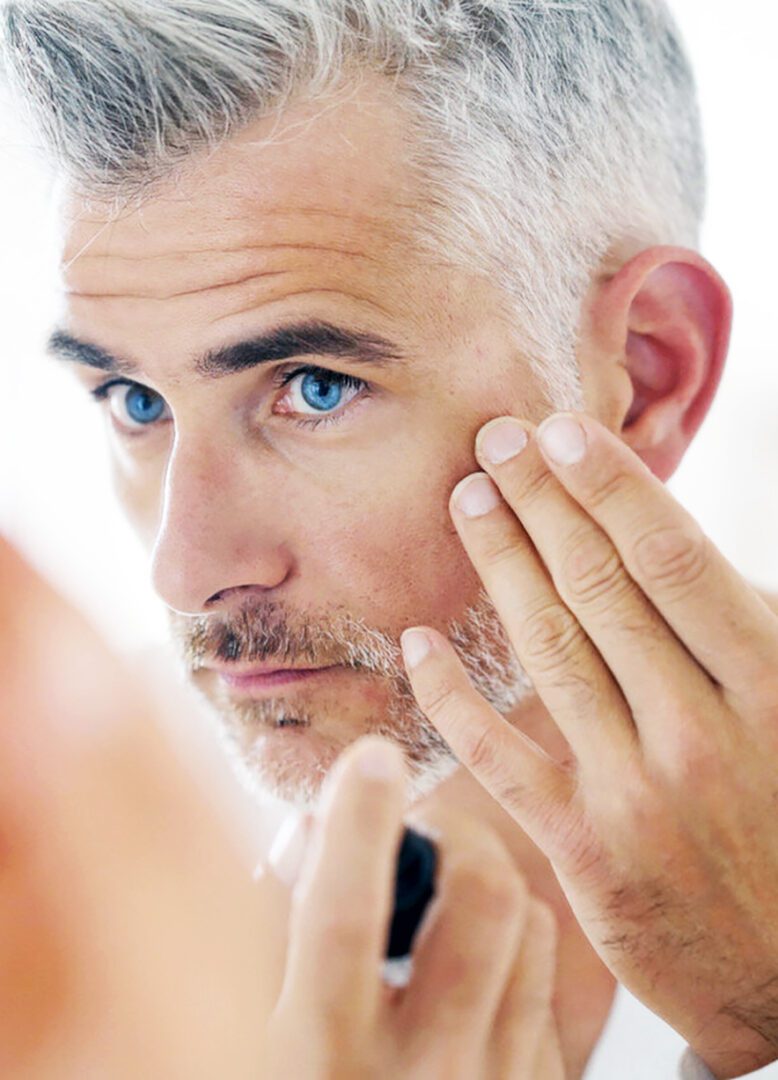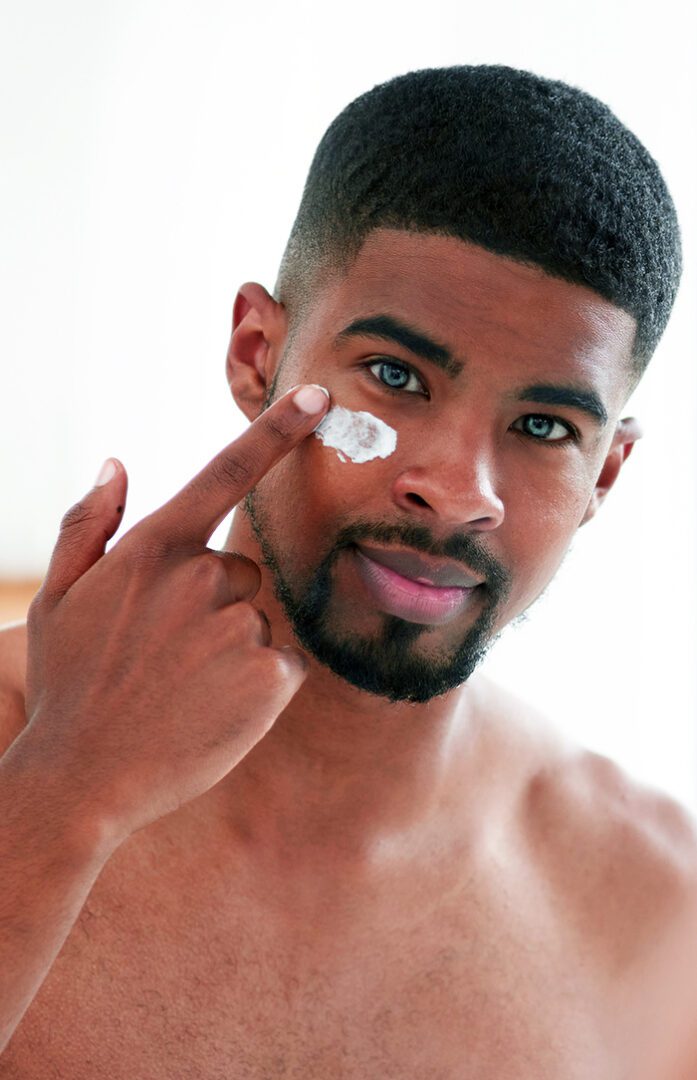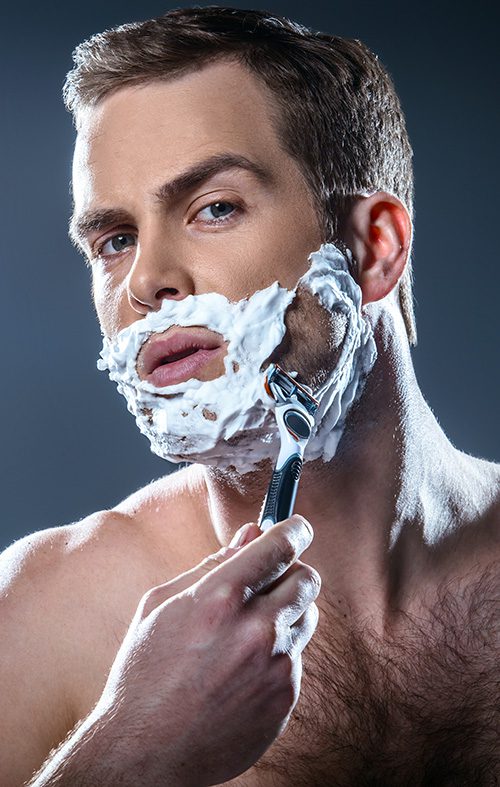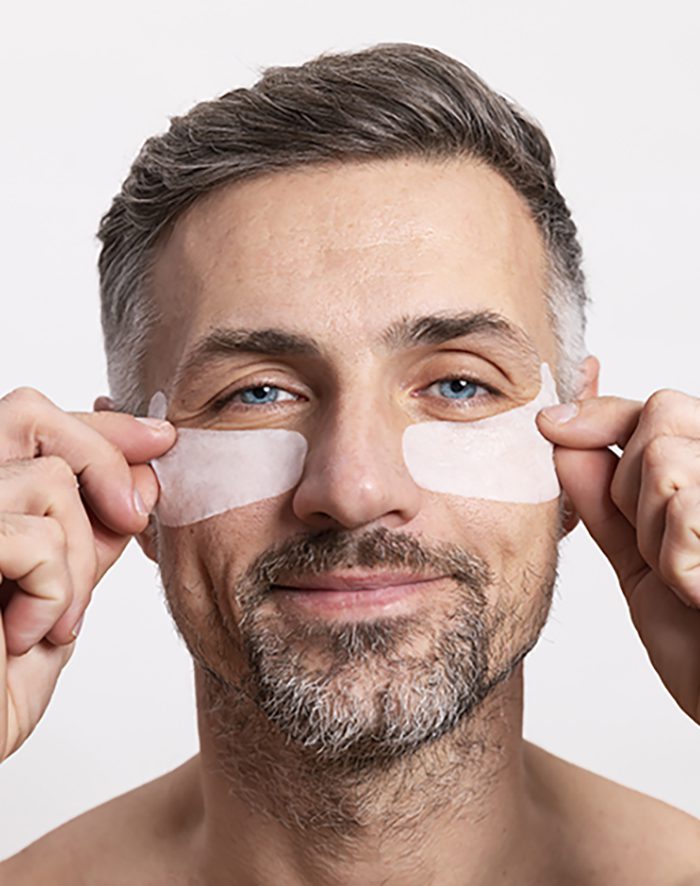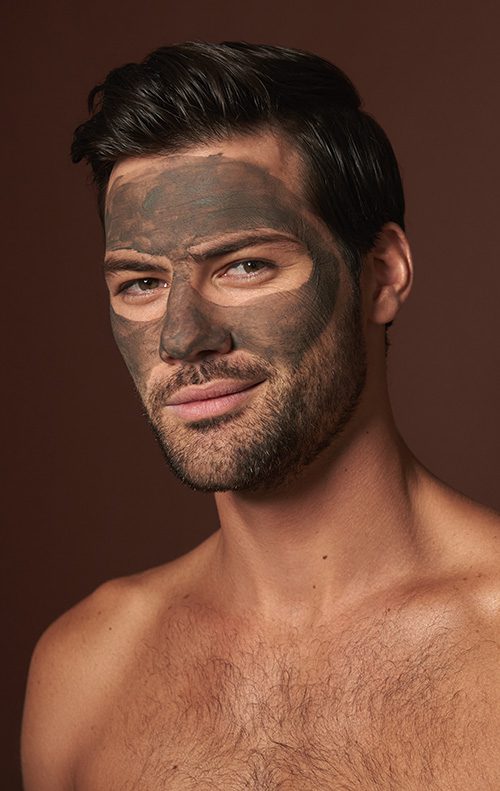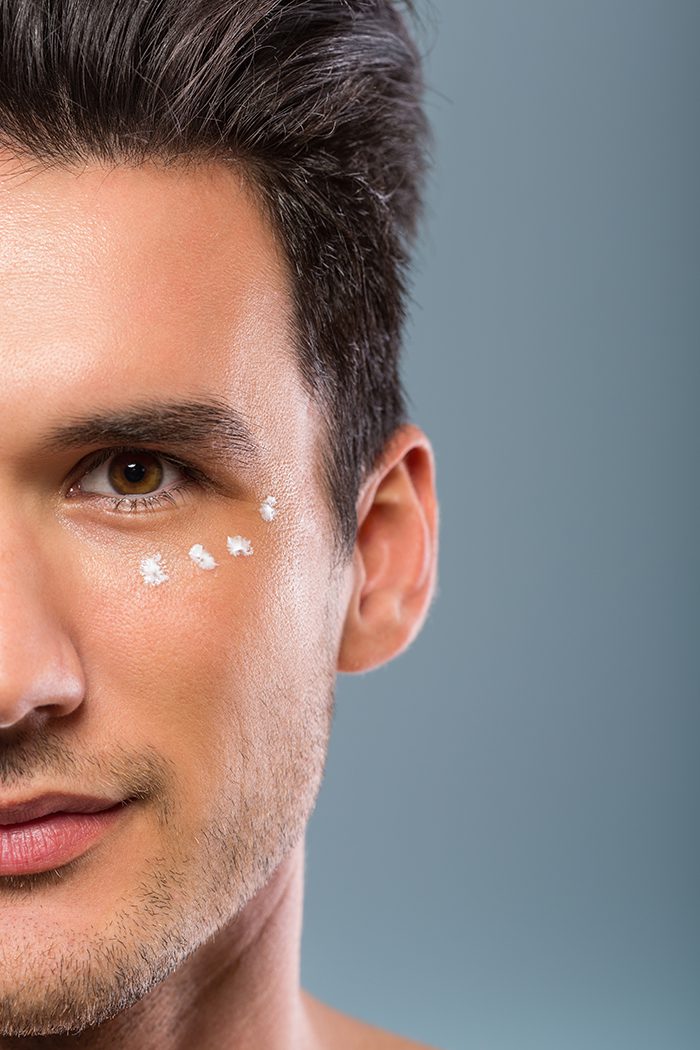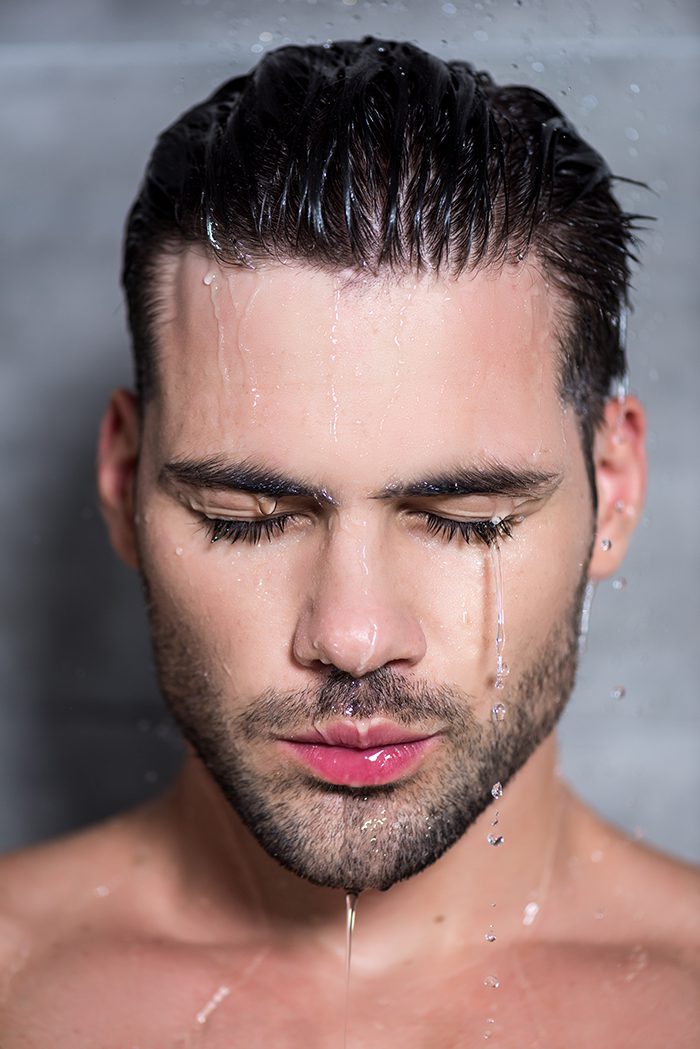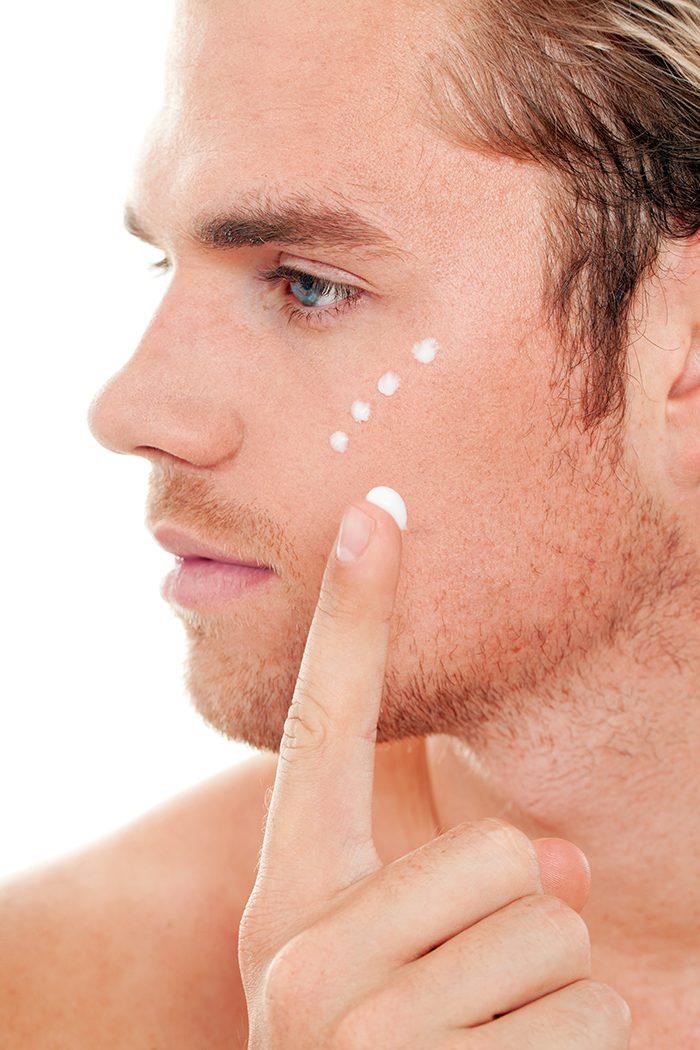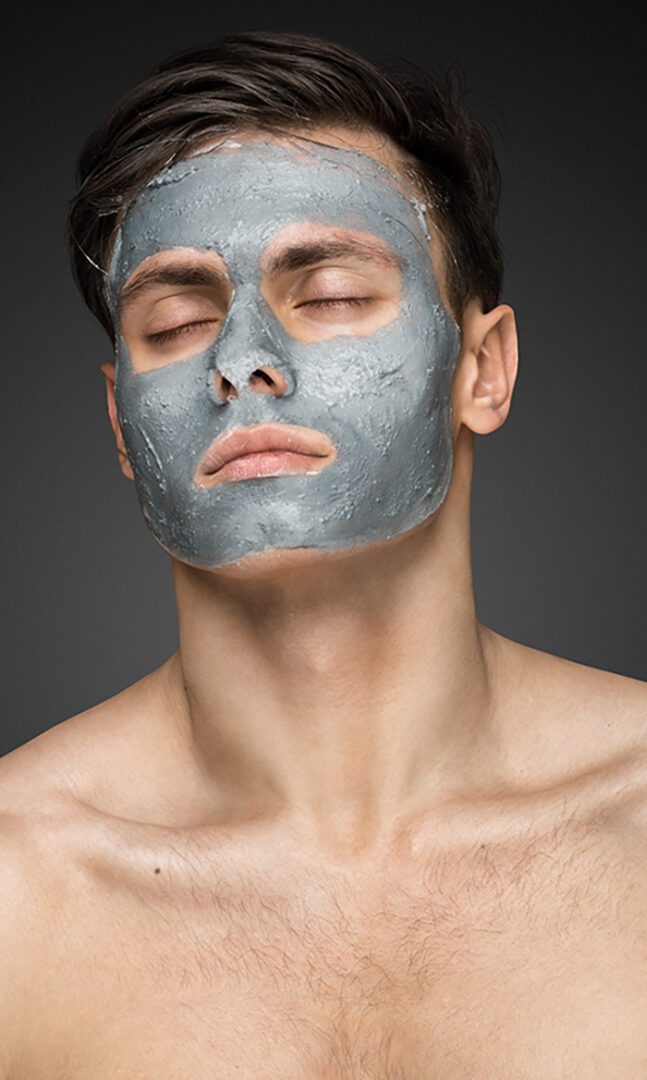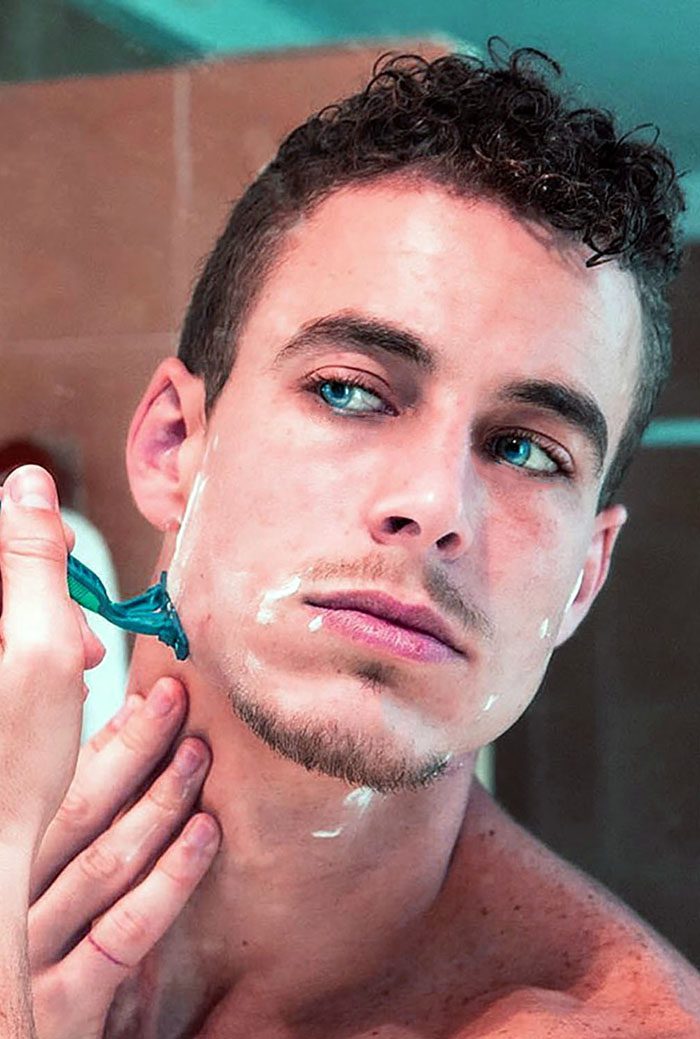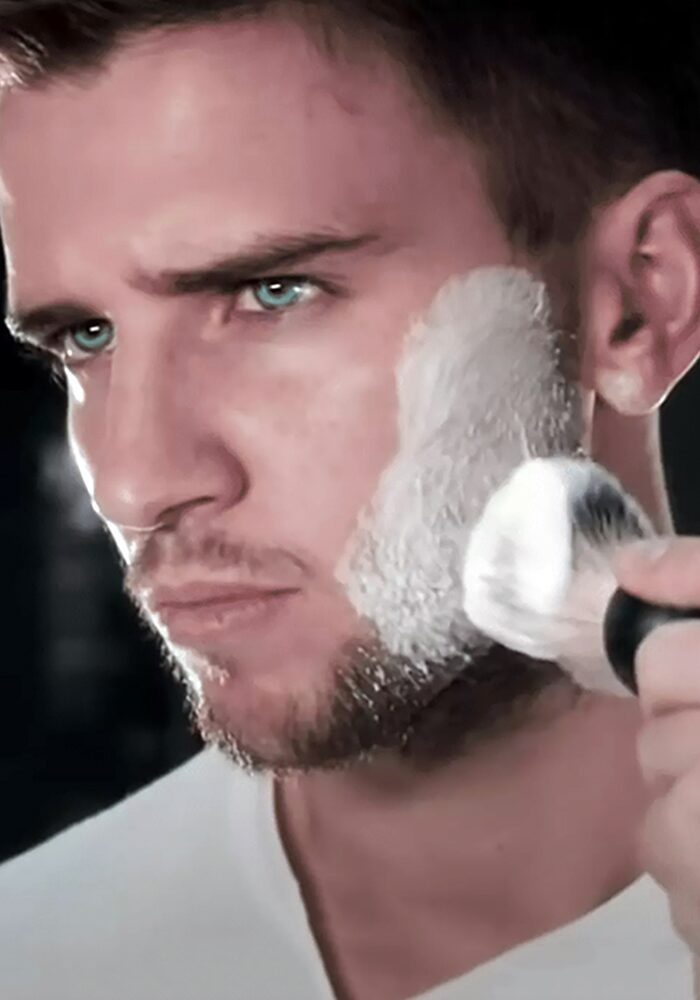 RUGGED MEN DON'T CARE ABOUT THEIR SKIN, OR DO THEY?
Well, actually, they do – and the proof is in the market today, illustrated in the soaring sales of men's skincare products. In 2021, Global Industry Analysts, Inc., predicted that the global men's skincare products market could reach $16.3 billion by 2026 – that's a billion with a "B".
While men tend to gravitate toward simplicity in their daily routines, they also want to maintain healthy, youthful-looking skin. The high demand for men's skincare products shows how strongly men have accepted the challenge of achieving an advanced level of skin care.
+DO MEN NEED THEIR OWN LINE OF SKINCARE?
Because men produce more collagen and sebum (oil) than women, men's skin tends to be thicker and oilier than their female counterparts. The increase in collagen and sebum makes it difficult for some skincare ingredients in women's products to be effective on a man's skin.
+WHAT ARE THE ESSENTIALS THAT MEN SHOULD CONSIDER?
Skincare regimens can be complex, but men should follow a baseline routine to maintain a healthier and more youthful complexion. For the simplest routine, the basic steps of skin care include:
Exfoliate
Cleanse
Moisturize
+WHAT TO LOOK FOR IN A CLEANSER?
Obviously, removing excess oil and dirt to achieve clean skin is a must. You should cleanse your face every morning, and evening to remove dead skin cells that accumulate on the skin surface
Cleansing helps the pores to open and also renews the outer skin to keep it youthful, smooth, and with a radiant appearance. It's important to choose a Cleanser based on your specific skin type.
Avoid bar soap, which can contain harsh ingredients that may dry out the skin. Facial cleansers are specifically formulated for the skin on your face, unlike bar soap and body wash products. You should also ensure that your skincare products are oil, alcohol, fragrance & paraben free.
+WHAT ARE PARABENS, AND ARE THEY DANGEROUS?
Parabens are chemical preservatives that are widely used in cosmetic and skincare products. Products with parabens should be avoided because parabens are known to increase:
*Estrogen levels in the body
*Cellular damage related to UV exposure
*Risks to certain cancers
*Skin sensitivity, causing allergic reaction
+IS IT IMPORTANT TO CLEANSE RIGHT AFTER EXERCISE, WORKING-OUT OR EXPOSURE TO THE ELEMENTS?
Cleansing after a workout or any type of environmental exposure is definitely a must, as sweat can mix with dirt and bacteria, clog pores, and cause breakouts.
Avoid using gym products since commercial products may not be alcohol or  paraben free, and could harm skin and strip it of moisture.
+HOW OFTEN SHOULD A GUY MOISTURIZE?      
In the morning, after the skin is cleansed, apply an oil-free and water-resistant moisturizer with SPF 30+ properties to guard your skin against harmful ultraviolet (UV) rays from the sun. Even incidental sun exposure can add up and cause skin damage. At night, after your evening facial cleansing, you can use a moisturizer without sunscreen.  For those seeking/needing more intense hydration, finding a specific night cream or serum for your specific skin type is definitely recommended.
+WHAT'S THE BENEFIT OF MOISTURIZING?
Moisturizers deliver vitamins and nutrients to the skin, provide deep hydration, and create a barrier to protect the skin from damaging environmental factors such as pollution.
Applying a moisturizer in the morning replenishes moisture lost during sleep, and using a moisturizer at night adds nutrients that help skin cells regenerate as you sleep.
+WHAT ABOUT EXFOLIATORS FOR GUYS?
Masks, Toners and Pre-Shave conditioners are types of exfoliants.  A Mask should be used prior to cleansing/shaving, a pre-shave conditioner used after a mask is removed, and a Toner helps to balance your skin's PH levels post-cleanse.
 Exfoliators also help to eliminate dead skin cells, unclog pores and act as a defence against ingrown hairs. Exfoliation promotes prime skin health and also aids in helping to remove blackheads and/or acne.
+HOW OFTEN SHOULD I EXFOLIATE?
Exfoliating one to three times a weekly is recommended.
+WHAT ARE COMMON SKINCARE CONCERNS FOR MEN?
A good shaving cream should contain ingredients that protect and hydrate your skin to minimize irritation and leave your face feeling light and smooth after shaving instead of tight and dry.
+HOW CAN I LESSEN MY POST-SHAVE IRRITATION?
For a comfortable shave, rinse the face with warm water to open pores and soften the hairs on your face. Apply shaving cream/gel, and then shave. Rinse the face and wipe away any excess lotion. No matter what shaving cream you use, it should contain ingredients that will protect and hydrate your skin to minimize irritation.
Shave in the direction of hair growth, and after shaving, use a post shave mist-conditioner or balm with antioxidant and antiseptic properties to help soothe and protect your skin.
+SHOULD I APPLY A FACIAL SERUM AFTER SHAVING?
Applying a serum after shaving can make a big difference in achieving clearer, younger-looking skin. Serums are formulated with high levels of active ingredients (such as vitamin C, vitamin A, vitamin E, hyaluronic acid, and peptides) that work to calm irritations and brighten skin.  They also help with irritating ingrown hairs.  If you prefer to shower after shaving, apply the Serum or Hydrator after you cleanse and tone your face.
+WHAT ARE THE BENEFITS OF VITAMIN C & E?
Vitamin C is an great antioxidant and anti-inflammatory nutrient that improves skin tone and texture, hydrates the skin, and reduces signs of aging. Vitamin C serum can brighten your complexion and protect your skin against damage caused by sun exposure and harmful free radicals.
In addition to vitamin C serum, vitamin E is another antioxidant known for its anti-aging properties. Vitamin E protects skin cells from free radicals, which helps slow down signs of aging, and is often used in sunscreens and daily moisturizers due to its photoprotective properties.
+IS HYALURONIC ACID FOR MEN'S SKIN AS WELL?
Hyaluronic acid is an effective ingredient in many skin care products that can help men erase fine lines and reduce wrinkles. Not only does hyaluronic acid help skin to look younger, but it also replenishes moisture in the skin, repairs skin that has been damaged by UV rays, and rejuvenates the outer layers of the skin for a refreshed appearance. As an anti-aging tool, hyaluronic acid also has antioxidant properties to help protect skin from the elements.
+WHAT IS HYPERPIGMENTATION?
Hyperpigmentation is caused by an increase in melanin. Melanin is the natural pigment that gives our skin, hair and eyes their color. A number of factors can trigger an increase in melanin production, but the main ones are sun exposure, hormonal influences, ageing, skin injuries (burns, chemical and UV exposure, surgery/scars) and inflammation.
Since it impedes melanin production, Vitamin C can actually help fade hyperpigmentation.
Topical retinoids (Retinol & Niacinamide) are highly effective in helping to lessen hyperpigmentation due to their anti-inflammatory properties.
Retinol starts to work in your cells right away, but it will take several weeks before you see an improvement in the look and feel of your skin. In fact, your skin condition may look worse at first as you adjust to the new regimen.
+ARE ESSENTIAL OILS GOOD FOR YOUR SKIN?
Essential oils have been found to treat many naturally occurring skin conditions, such as eczema, psoriasis, scarring, and hyperpigmentation, and many have been found to help prevent the development of certain cancers.  Think of the essential oils as probiotics for the skin.  Many of the oils work as anti-bacterials and help promote cellular regeneration to damaged skin. For instance, Tea-Tree (helps soothe dry skin by reducing itching and irritation, natural deodorant/anti-fungal), Sandalwood (reverses ageing and works as an intensive moisturizer, promotes dermal healing, lessens hyperpigmentation), Peppermint (promotes cell and hair growth, deodorizes, soothes pain and burning), Lemongrass (heals, and a fantastic anti-bacterial), Jojoba Oil (balances oily/combination skin), Argan Oil (promotes skin PH balance, promotes hair growth, and locks in moisture), Calendula Oil (treats severely dehydrated skin and lessens the effect of UV damage), Primrose (excellent for damaged or scarred skin), Rosemary (anti-bacterial, deodorant, anti-fungal), Clary-Sage (excellent hydrator, lightens skin, deodorizes, anti-fungal), Green Tea (anti-bacterial, hydrator, promotes healing), Aloe-Vera (superb moisturizer, promotes healing from scarring & UV damage, eases burning and chaffing, anti-bacterial)...just to name a few.
+HOW DO WE AVOID UV DAMAGE?
To avoid sun damage that can lead to wrinkles, age spots, and skin cancer, it is vital to apply sunscreen daily to all exposed areas of skin, including your scalp, ears, and neck.
For best protection, use a broad-spectrum, water-resistant sunscreen with an SPF of 30 or higher, and reapply it every two hours or immediately after swimming or sweating.
A sunscreen product can protect your skin from harmful UV rays that can cause premature aging. Sunscreen products also help maintain an even skin tone and prevent skin cancer.
+WHAT SHOULD I KNOW ABOUT ACNE?
Acne includes the presence of blackheads, whiteheads, and other types of pimples on the skin. The cause of acne can be traced to the sebaceous glands, which release generous quantities of sebum during adolescence and continue to do so throughout life.
Sweating can aggravate acne, which manifests in men mainly on the face and back. Breakouts on the back often happen in hot weather or after exercising. Shaving bumps on the face can appear to be acne, but ingrown hairs or shaving mistakes are often the real cause.
It's also important to keep in mind, if you're finding that your Acne breakouts are becoming unmanageable, painful or causing distress, speak to your Physician and be referred to a Dermatologist.  There are many advanced treatments and procedures that are now available to help alleviate cystic/chronic Acne and skin-conditions.  Do not suffer in silence.
It's also important to keep in mind, if you do have ultra-sensitive, chronic or any type of medical skin condition, always seek advice from your Physician or Dermatologist before commencing use of any new products, and always, READ THE LABEL!
+DO I REALLY NEED AN EYE SERUM?
Eye Serums penetrate deep into the delicate skin surrounding the eye and eye socket. So, absolutely, the answer is yes, you should use an eye serum daily! Eye Serums work to tackle the appearance of crow's feet, lines, sagging, dark circles, fatigue and puffiness, all associated issues with the eye area. As well, a good eye Serum helps to reverse the signs of natural ageing or UV Damage.
+SHOULD I USE A FACIAL NIGHT SERUM?
Known for their intense effectiveness, Facial Serums are often used to manage specific skin concerns such as premature ageing, wrinkles, acne, rosacea, hyperpigmentation, dry and damaged skin, loss of elasticity, overall lack of vibrancy and PH imbalance. Serums are also designed to brighten and provide a more youthful and dewy complexion, depending on the type of Serum you use.  A good Facial
Serum should be used as part of a daily skincare routine and applied onto clean, dry skin, after cleansing and toning, preferably in the PM.